Hack Miami Submarine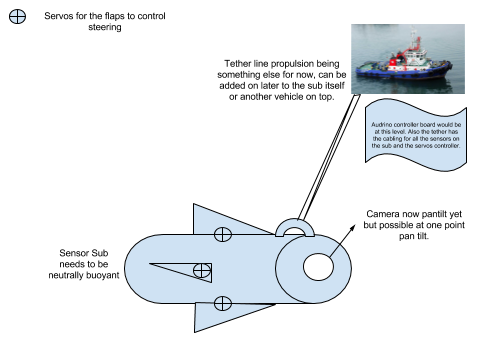 Going where no hacker has gone before
The purpose of this project is to make an underwater submarine using a Raspberry Pi as the primary controller and collector for sensory data. The sensory data ranges any where from live video, temperature, acceleration, to atmospheric pressure. The submarine will also accommodate modules to be added for hacking purposes (wifi cracking underwater, packet collect, bluetooth scanning etc…). In essence a spy sub.
Rough Design Concepts:
Phase 1 Anchored Concept -
Final Concept Art -
10,000 Feet view of project:
I would like to break the project into 3 phases in order to make it feasible and get results in every phase.
Build a sensor box — Drop a sensor box in salt water, make sure we get readings
Give the Submarine Propulsion — Add motors and navigation
Make the Submarine wireless— Attempt to all sensor data be transfer via RF/802.11 including video.
Todos:
Narrow down scope of project
Select sensors that would make sense on the submarine
Test sensors
Make Hull, fit sensors in
Test Hull in salt water (no sensors)
Drop Hull and sensors in water
…
…
Idea Pad:
Throw your ideas down here, work with me on piecing this together.